DMACC'S SEVENTH ANNUAL SMALL BUSINESS AWARD RECIPIENTS ANNOUNCED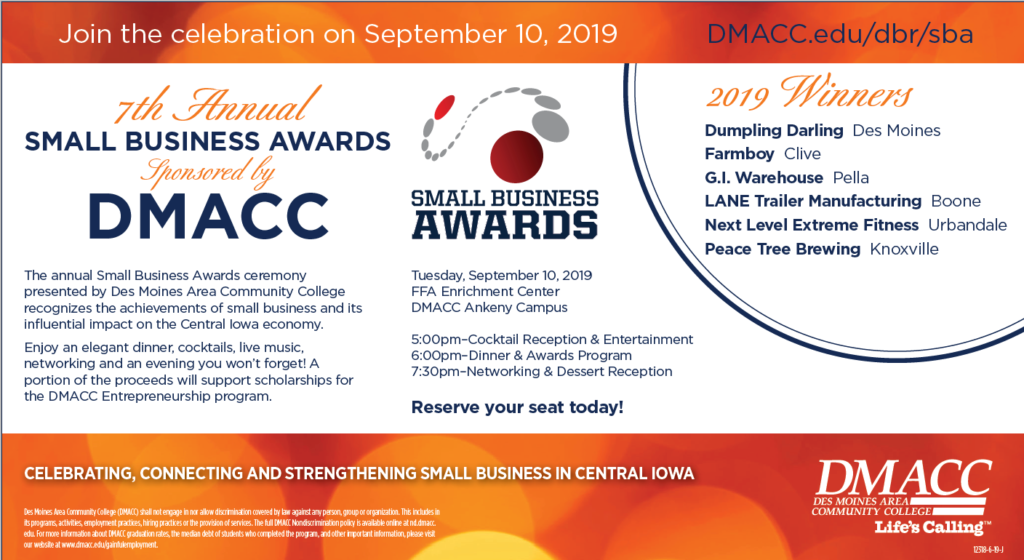 The award recipients of the seventh Annual Small Business Awards ceremony sponsored by Des Moines Area Community College (DMACC) have been announced and will be recognized in early September.
Categories for recognition include: Most Innovative Company, Young Entrepreneur of the Year, Dennis Albaugh Award (given to a DMACC alumni), Top Growth Company and the Small Business of the Year.
The 2019 winners include:
Dumpling Darling, Des Moines, a restaurant concept integrating dumplings from around the world and Korean cuisine
Farmboy, Clive, a customized marketing and web development organization
G.I. Warehouse, Pella, a warehouse company providing local and regional services
LANE Trailer Manufacturing, Boone, a manufacturer of customized,
high-quality trailers
Next Level Extreme Fitness, Urbandale, a fitness center with a focus on improvement for all shapes, sizes and ability levels
Peace Tree Brewing, Knoxville, a local craft brewery with locations in Knoxville and Des Moines
The event will recognize the achievements of these six businesses and their influential impact on the Central Iowa economy, while also honoring the work and success of regional small business
owners and providing an opportunity to network and strengthen the small business community.
The 2019 Small Business Award ceremony will be held on Tuesday, September 10, 2019 at the FFA Enrichment Center on the DMACC Ankeny Campus. A cocktail reception and entertainment begins at 5 p.m., followed by dinner and the awards program at 6 p.m. and networking and a dessert reception at 7:30 p.m.
To register to attend, click here.
A portion of the proceeds will support scholarships for the DMACC Entrepreneurship program.
About DMACC
Des Moines Area Community College, a public institution serving the educational and career training needs of Iowans, is committed to the lifelong success of its students. Situated in one of America's most vibrant regions, DMACC offers 200 programs, certificates and transfer degrees, annually serving more than 70,000 credit and noncredit students on six campuses and six learning centers. Thanks to college-wide innovation including Continuous Process Improvement (CPI), new programs and affordable tuition, DMACC continues to experience solid growth. For more information, please visitwww.dmacc.edu.
Related Articles