What can I say, I love Halloween. Ever since I was a kid, starting in October and ending December 26th, you can usually find me in a good mood. It's my favorite few months of the year.
During my college years as a design student and working part-time at the Apple Store, it turned out I wasn't alone in my love of the spooky holiday. Best part of working there in my mind was not the products, but rather the people. They were largely in creative fields like me. They were designers, photographers, web designers, DJ's, etc… If you're a working creative you'd be in great company.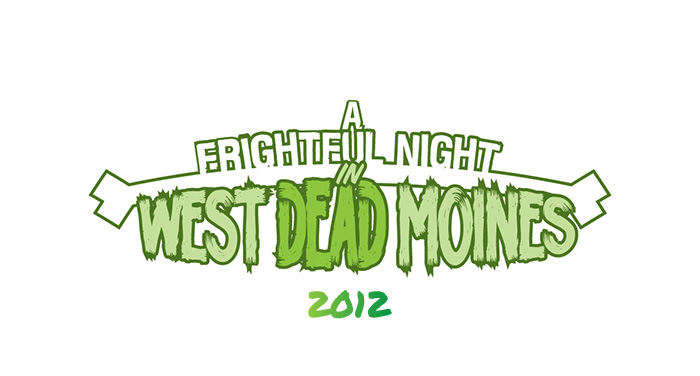 And so in 2012, the idea of "Fright Night" was born. A common Halloween house party amped up to more of a community event in West Des Moines, Iowa. We had a rented venue, live music, photo-booth, food, cocktails, movies… All put on by some Apple Store employees with a dual passion for Halloween and their jobs as creatives.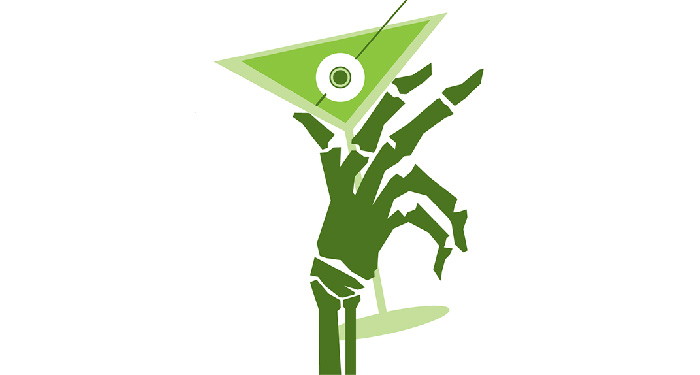 "I find it's what you do for fun that ends up being some of your best stuff."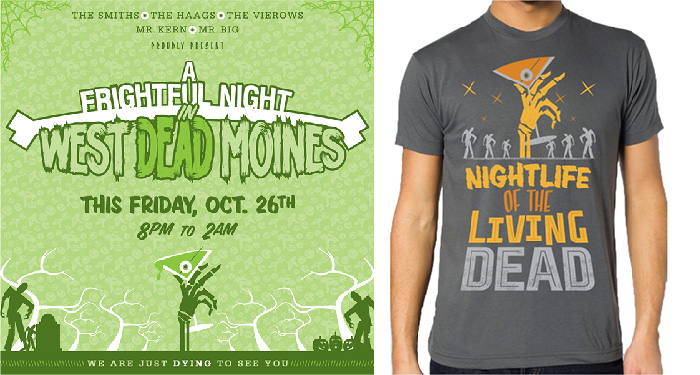 Even more impressive is each of us took to our "roles" with ghoulish delight and I made the whole thing a creative exercise in brand and promotion. I wanted to create as much as I could. Everything from logos, posters, social media graphics, and even dabbling in video.
Sounds like a lot of work, right? Well it was, but when it's your passion it doesn't feel like work and better yet, I find it's what you do for fun that ends up being some of your best stuff.
---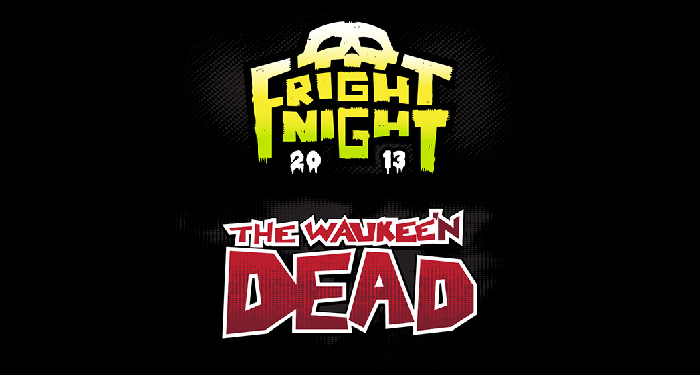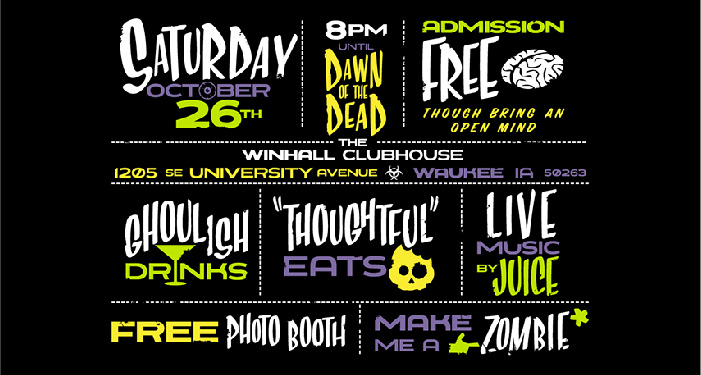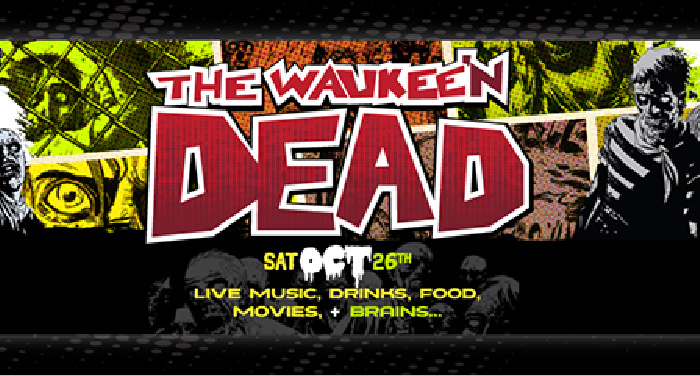 The Waukee'n Dead Highlight Reel
2013 was probably our most fun year. Everyone really brought their A-game now with a Fright Night "Board" of about 10 people.
With a venue change and fun theme (totally not my idea though I ran with it) it was a lot of fun. By this time I was at the point in my career where I was getting into web design so we created a responsive WordPress site with all the info for guests with the incorporation of brand elements.
Brittany and her husband Mitchell handmade a photo backdrop straight out of The Walking Dead. Our friend Lindsey made hundreds of creative cake balls. Quite possibly the coolest thing was our friend Chad, who worked in television news, had recorded several "breaking zombie updates" segments streamed randomly to the venues big screen TV throughout the night.
Check out the highlight video above to see ALL of these creative folks coming together to create something fun for friends and family.
---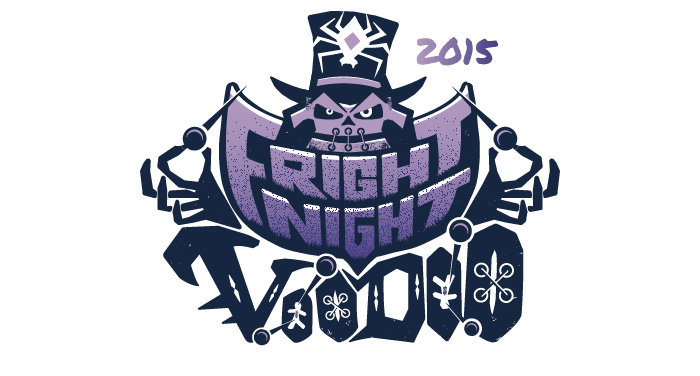 After a one year lull having been unable to secure a venue, Fright Night was back at our previous location with a fun theme voted on by our unofficial board of directors. It was great to try and create something new that maintained some of the feel of the core identity from previous years.
To keep things fresh our pal Leigh set up a mini haunted (cajun) house guests had to walk through to enter the event. The man has serious skill in frightful displays and prop making.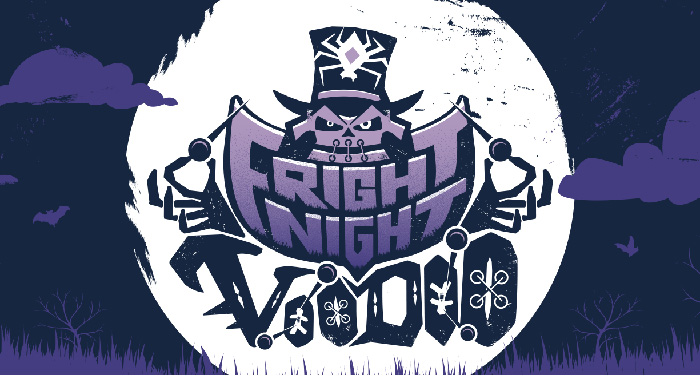 ---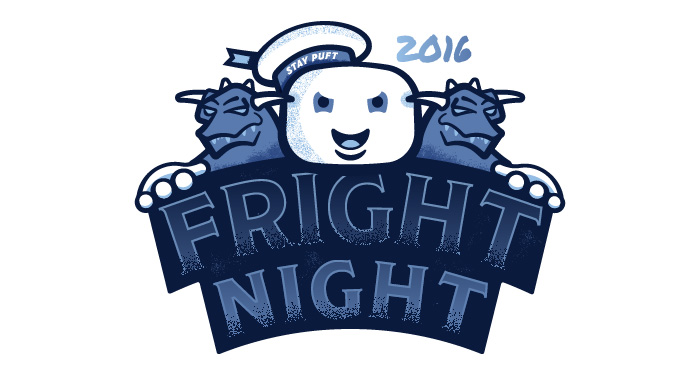 2016 was probably the most sparse year in terms of total output for a campaign. This was due to the happy fact that Farmboy picked up a lot of business in the Fall and I just couldn't do all that much. Still, this was probably one of the most fun pieces to work on. Theming an event on a specific franchise hadn't been done yet, and I it takes little convincing to get this guy to do anything related to busting ghosts.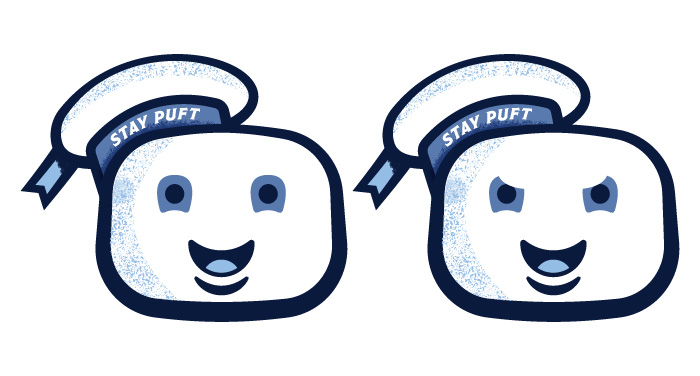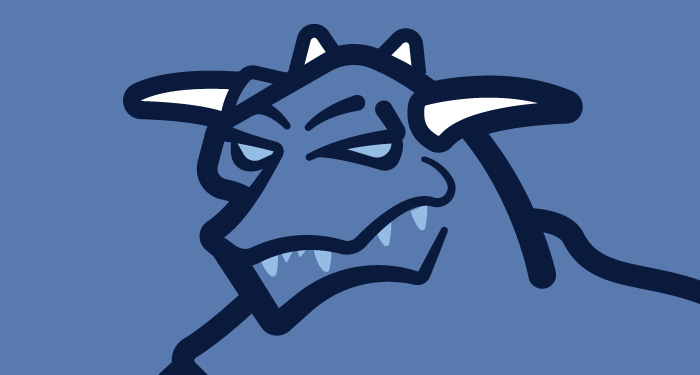 "Okay, who brought the dog?"
Having now done this over a span of 5 years, it's been fun to take a retrospective look at not only a diverse portfolio of fright filled branding/creative, but also the real world experience of working with a team towards a common goal.
No one was paid for the work they did, and it actually costed us dollars to throw the events. However, I cannot think of any better circumstance for a creative professional to hone their craft. These events were passion projects that brought out some of our best work because of our mutual love for this time of the year.
I personally love doing branding and promotional work and my advice to those who want to get a foot in the door is just do something for fun.
I wager it will be some of your best stuff and when you share your passion project to the world you might just find that the work you want finds you.
Related Articles