As we look onward to 2017, we wanted to take the opportunity to also look back on all we accomplished in 2016. We were blown away to see that, in 12 seemingly short months, we've changed considerably and are on the cusp of bigger and better things.
Let's take a look at what made 2016 a banner year for Farmboy.
New Teammates
For almost four years, Farmboy was largely a two-person shop, focused primarily on branding, advertising and print design – in addition to WordPress web development. As our workload grew, and we saw more and more web development projects roll in the door, the need for additional web development support increased as we worked to handle our client's needs.
In late December 2015, Farmboy brought on our third teammate in Bryan as our Lead Developer. He brought with him years of web experience and hit the ground running in 2016, increasing our capabilities to serve more clients with better efficiency.
Business continued to pick up into the Spring and we plucked Kayla fresh from college, to join our team, as our Junior Developer. She showed a very firm grasp of development and Farmboy now has a nice balance of dedicated designers and web developers who work together on projects from start to finish.
This cut down project time considerably which is great for Farmboy as well as for our clients.
13 Websites Completed ( and a few more to finish )
Speed and quality are not only important for happy clients but also for the sanity of your staff. Our improved web team allowed Farmboy to create work on par with the bigger agencies. To do this our team implemented a few tweaks to the workflow that have cut down development time by nearly half!
Thanks to fresh talent and working smart, we've crafted 13 robust websites for our clients in 2016. Here are a few of our favorites we created completely custom from the ground up:
Each project this year has been unique like a snowflake, but just like snowflakes they have similar simple yet complex foundations; this is where we excel, simple complexity.

From car racing to medical and food service to highly technical businesses, trust in our web development process and you'll enjoy the results.

Bryan – Farmboy Lead Developer
Updating a Brand

Over the course of 2016 we quietly updated our brand while simultaneously working on regular client work. A new logo and color scheme for our older website in February. A new letterpressed business card in April.
The biggest item, an overhauled website, launched July 30th – simple, bold, and ready for us to easily show off our best work and ideas. This, along with more aggressive SEO strategies has benefitted our inbound lead generation in addition to the business we normally draw from word-of-mouth advertising and a bit of social media marketing.
More Than Participation Trophies
A happy client who enjoyed working with us so much that they return and/or refer other businesses is a great accomplishment by any standards. Still though, getting a physical award is a real confidence booster. (Though clients sometimes give trophies too. More on that below…)
In February The American Advertising Federation held their annual "Addy" Awards where Farmboy was awarded the gold in the category of Integrated Brand Campaign for our work on the Powered By Fries mobile food truck design and branding.
In the Summer at West End Architectural Salvage event space, ADAI held their 58th Annual Design Exhibition. There was some steep competition, but Farmboy once again managed to go home with a few nice awards.
Most notably, we won big for our work for local West Des Moines restaurant Gilroy's Kitchen + Pub + Patio, receiving an Award of Excellence in Environmental Graphics, for the signage, graphic design and interior design of the restaurant; as well as Best of Category for Identity System for the restaurant's overall branding. We saw additional love from ADAI, with individual Awards of Excellence for my pet project, Fright Night, and Identity Mark for local restauranteur Sam Auen's Good Word Restaurant Group.
Probably our biggest award came from something we didn't enter to win, but from our marketing and creative efforts for one of our many agricultural clients. The Conservation Districts of Iowa invited Jason to their annual event where he was presented with a plaque that read "2016 Honorary Member."
Farmboy worked with CDI to create a brand and direct mail test kit for their retaiN initiative. The kit helped Iowa farmers test, understand, and retain their nitrogen levels in their fields. If you're from the Des Moines area, you probably recall the news earlier in the year about the possible lawsuit of three Iowa counties by the Des Moines Water Works board? The initiative was a huge success for CDI and the many counties that were involved in assisting farmers in retaining more of their nitrogen and for us to assist in tackling something on that level and to receive high praise from CDI was an experience we won't soon forget.
On to 2017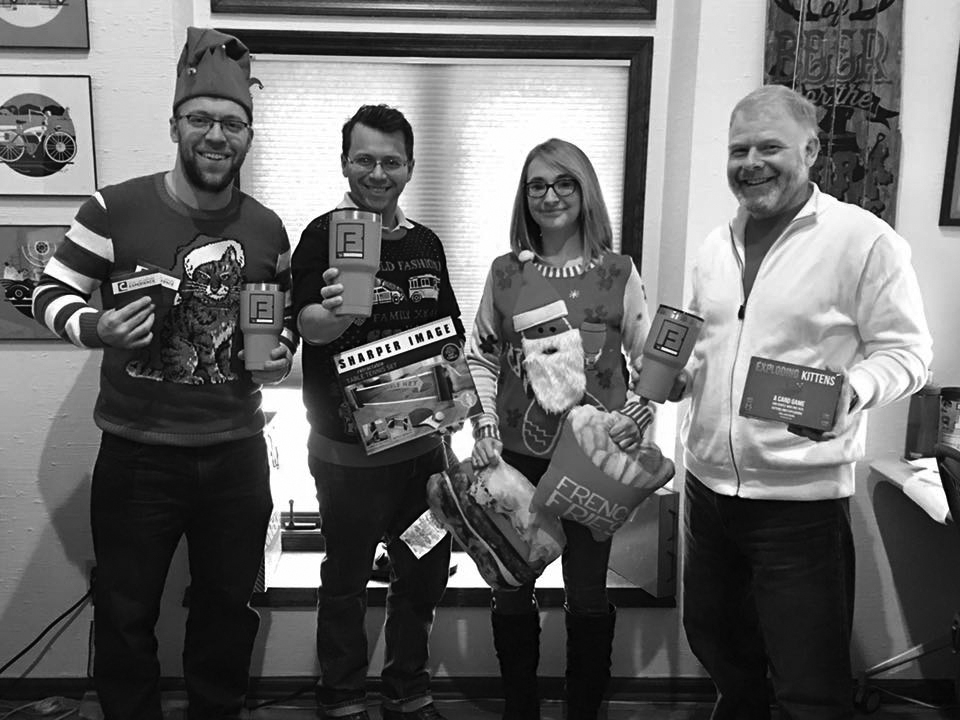 A brand facelift. New staff. Doubled work output. New web capabilities. High praise from clients and peers…
In 2017, we want to continue to work with stellar clients and bring on a few more. We want to keep improving our creative process and web development efficiency to better serve those new clients. We have New Year's Resolution to add services to our arsenal to further add value. Heck, there's also preliminary plans to move offices early this year!
It takes hard work and patience to grow a business and though Farmboy has had its obstacles, we've seen a steady trend upwards. With more of the same and maybe a little luck…we might be hiring going into 2018.
Related Articles