While facing an economic downturn, it's easy to feel pressured to cut your advertising budget to keep your company afloat. On paper, this may seem to help by saving you money today. The unfortunate reality is that slashing your digital marketing budget now may cause irreparable damage to the success of your business long term.
Marketing effectively during a recession is possible with a mindful strategy. Your current approach will need to be adjusted—or reworked entirely—but you should not cut ad spending. If a cut to your marketing budget is unavoidable, prioritize your digital marketing efforts. When marketing in a recession, focus on building your brand name and keeping it reachable, visible, and relevant. Digital marketing provides a fantastic opportunity for this.
Do digital marketing efforts like PPC & SEO work during a recession?
Digital marketing channels such as PPC (pay-per-click) and SEO (search engine optimization) are powerful tools that continue to work through a recession. Even in periods of financial stress, the needs and wants of consumers remain. People may tighten their wallets, and their financial priorities may shift, but commerce never halts completely. Marketing in an economic downturn is not a waste of your time or budget.
Generally, digital marketing can reach a wider audience than traditional marketing does. As people change their habits to account for financial strain, they'll spend more time at home. During these times, reaching your audience is crucial, and digital marketing is the most effective way to do that.
Take advantage of PPC and SEO when marketing during a recession. Both tools require some work upfront but can save your brand by keeping it highly visible and relevant. If a consumer is digitally searching for a good or service, they must be able to find your brand easily. Investing in PPC and SEO will help significantly.
What can we learn about digital marketing from past economic downturns?
Past economic downturns have shown that companies that focus on building brand awareness during financial turmoil perform better than companies that don't. Digital marketing is a great way to keep consumers aware and informed of your brand.
The COVID-19 epidemic is an example of why digital marketing during a recession is so essential. As people began to spend more time at home due to job cuts and quarantines, they also began to spend more time online. Brands that effectively adjusted their strategies to accommodate the digital marketplace survived, while brands without a strong digital presence did not.
While marketing in a recession, your current customers are more important to your business than ever. Consider adjusting your brand voice to be more sympathetic, emotional, and understanding. This voice will resonate with your consumers and show your awareness of the situation at hand.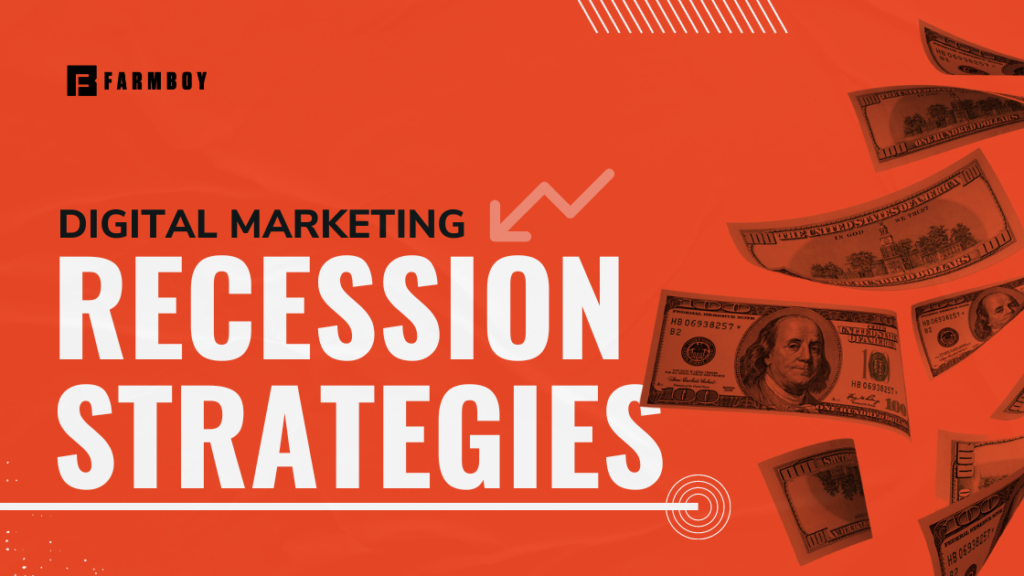 Is SEO a good marketing strategy in a recession?
SEO is a fantastic marketing strategy to use during a recession. SEO is cost-effective up front and lowers your marketing budget in the future by increasing organic traffic to your site. Instead of abandoning an SEO strategy, you should be developing one. If you know what you're doing, it's worth the investment!
Somewhere between 30-60% of web traffic originates from search engine inquiries. That's a lot of opportunity for visibility— even if the actual percentage is on the low end of the spectrum.
Cutting your SEO efforts will tank your brand's visibility. It will make it harder for consumers to find you, and easier for them to find your competition. The SERP (search engine results pages) ranking you lose doesn't disappear; it gets replaced by someone else—your competition—and you're handing business to your biggest competitors. Whether you're marketing in an economic downturn or not, it's obvious why that's the last thing you want to do.
Is PPC cost-effective during a recession?
PPC is one of the most cost-effective digital marketing efforts available, even during a recession. With PPC, you are only paying when someone clicks on your ad. However, a click doesn't guarantee a conversion (sale). Creating conversions is your website's job, and your site should be optimized to make that happen.
PPC allows you to target a highly specific audience, and it gives you control over who is finding your ads. When money is tight, it is essential to connect with the right demographic. PPC is crucial for small, local businesses that target consumers based on location.
PPC can be measured very accurately and is highly customizable. You'll be able to see what's working and what's not and adjust your campaign accordingly. Investing in PPC is a valuable option while marketing in a recession.
Halting your marketing efforts during an economic downturn is never a good idea. When times are tough, you can lose focus on the big picture. Cutting your marketing budget is a short-term "solution" that creates a long-term disaster. A digital marketing strategy that includes PPC and SEO tactics will help your company stay visible and relevant during financial distress. Adjusting your marketing plan, instead of abandoning marketing efforts, will be your best course of action. If you need help adjusting your marketing strategy, contact Farmboy and let us know how we can assist you.
Related Articles